EPIQ MARKETPLACE, LENNOX HEAD
Whether you are travelling by car, bus or taxi Epiq Marketplace is easy to find.
Epiq Marketplace is approximately 25km south of Byron Bay and 11km north of Ballina.
Epiq Marketplace is easy to find. Conveniently located just off The Coast Road via Hutley Drive roundabout at the corner of Snapper Drive and Hutley Drive Lennox Head. It is an easy 60-minute drive south from the Gold Coast Airport.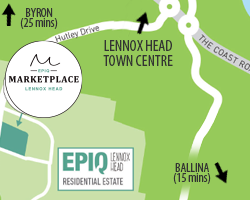 Blanch's Bus Company services the Lennox Head area with bus connections. For further details, find timetables at the links below to plan your journey or call  131 500.
There are a number of taxis that service Lennox Head and surrounding areas: