EPIQ MARKETPLACE, LENNOX HEAD
Parking is easy at Epiq Marketplace. For the convenience of our customers, Epiq Marketplace offers 280+ car parking spaces free of charge. The expansive parking areas are easy to access and close to all primary entry points to Woolworths and our specialty stores.
Epiq Marketplace is single level convenient shopping centre with the addition of a mezzanine floor with easy access to a gym and professional suites via an internal lift. This is designed to provide complete access in and around the centre.
You will also find disabled car parking spaces available.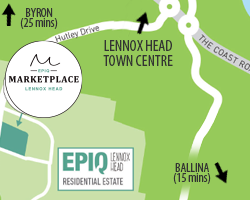 Epiq Marketplace is approximately 25km south of Byron Bay and 11km north of Ballina.
Epiq Marketplace can be found at the corner of Snapper Drive and Hutley Drive Lennox Head. Conveniently located just off The Coast Road via Hutley Drive roundabout. It is an easy 60 minute drive south from the Gold Coast Airport.
Epiq Marketplace has over 200 undercover car park spaces including designated disabled car parking.